Meet Dr. Lindsay Regehr
Active from an Early Age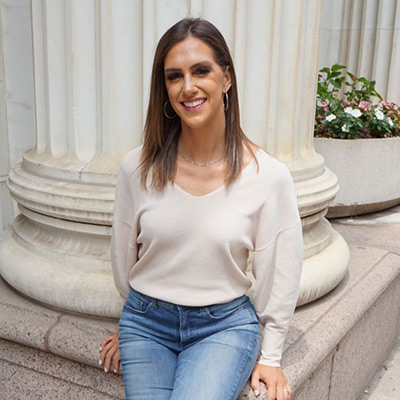 Born and raised in Wisconsin, Dr. Lindsay grew up in a physically active family and played sports from the time she could walk, with basketball and track being particular favorites. Along the way, she suffered injuries that periodically prevented her from participating in sports as much as she would have liked.
She received her first chiropractic adjustment while in college at the University of Wisconsin, and says, "It was life-changing. My aches and pains went away and the injuries stopped. There was no longer any limitation on how active I wanted to be."
During college, Dr. Lindsay worked at the front desk in a chiropractic office, and saw first-hand how adjustments helped the practice's patients live a full and healthy life. She was also impressed with the positivity of people who sought chiropractic care: "These were people who were committed to their health, and had a holistic mindset about it. That's an approach I believed in too."
On to Chiropractic College
Because of her own positive experiences with chiropractic care and what she saw in the practice where she worked, Dr. Lindsay decided to study chiropractic after college graduation. She attended Palmer College of Chiropractic in Davenport, Iowa, where she received a Doctorate of Chiropractic degree.
While at Palmer, she and her classmates participated in community sports outreach – they'd set up a tent at the endpoint of triathlons and other races and provide adjustments to the athletes, to reduce any soreness they might experience later.
One of her teachers at Palmer was particularly influential. "He thought outside of the box and passed that way of thinking on to me. He taught me techniques that, as part of my internship, I taught to experienced chiropractors. It was very rewarding to be able to show them a new approach and know that their patients' health would benefit as a result."
EXPLORE CHIROPRACTIC CARE »
Outside of the Practice
A yoga devotee, Dr. Lindsay is planning to become a certified yoga instructor. She and her husband, Austen, live an active lifestyle and spend a lot of time outdoors with Layla, their Bernese mountain dog. Depending on the season, they enjoy skiing, biking and hiking.
Active civically as well as physically, Dr. Lindsay frequently attends community events, and looks for opportunities to share her knowledge and expertise with others. Dr. Lindsay recently created a new chapter of Walk with a Doc in the Southern Denver Metro area as a way to provide a safe and fun environment for health education.
Make a choice to achieve your best health – contact our practice today!
---
Meet Layla!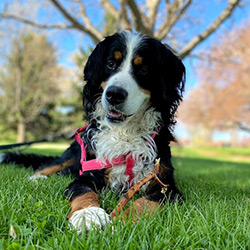 Layla is the Customer Experience Manager. She has been at the office since day one, and has been employee of the month for for 9 consecutive months.
You will usually be greeted at the door with a big smile and a wagging tail, unless she is sleeping on the job, which happens often.
Layla will make sure you leave feeling great and with a smile on your face. All she asks for is a belly rub or ear scratch, and maybe a treat or two.
In her spare time, you can find her lounging on her queen size doggy bed, sunbathing on the balcony, or chasing bunnies and squirrels.
Fun Facts about Layla
She has only been to the mountains 1 time, despite being a mountain dog
She loves people more than dogs
She is originally from Iowa
She will do anything for a treat
---
Dr. Lindsay Regehr | Chiropractor Cherry Hills